Sunah Choi, metrisch
2013
Steel, acryl color
Variable dimensions
Plate: 200 x 100 x 3 cm, Tubes: diameter 2,7 cm, each length: 160 cm, 90 cm, 65 cm,
Ring: diameter 170 cm, width 3,5 cm, Chain: length 1000 cm
In the work Sunah Choi, metrisch (Sunah Choi, metric) the artist transfers the measurable parameters of her body to the sculptural composition. The work consists of a rectangle steel plate, five round steel tubes and a ring made of steel. A rectangle steel plate is hanged from the ceiling with steel chains. The construction of tubes and chain hangs parallelly to the steel plate and slips onto the floor. One single steel chain goes throughout five steel tubes, connecting and holding together the whole tube structure. A few small metal pins, which are stuck horizontally trough the chains, keep the precarious temporary hanging construction of single tube together. A steel ring is positioned parallelly between the hanging plate and tubes. The weight of the plate corresponds to the artist's body weight and different lengths of the steel tubes match with the length of her arms, legs and body height. The diameter of the ring refers to the extent of her outstretched arms and legs. On the back side of the plate, two spots in white color are printed using stencil method.
Exhibitions:
Selected Artists 2012, NGBK, Berlin, 2013
einszehn, zweizehn, dreizehn, Kunstverein Friedrichshafen, 2013
Related works:
Nach Maß, 2012
Gemessen, 2013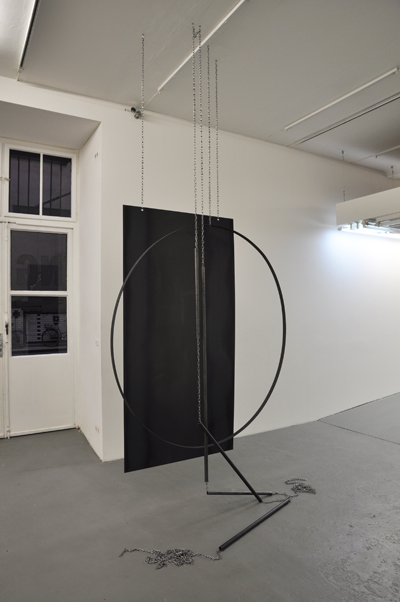 Installation view, NGBK, Berlin, 2013